12V 30Ah 12V30Ah lithium li ion battery pack for energy lifepo4
We could design all of the battery packs according to your requirements and provide OEM service. We sincerely welcome you to visit and cooperate with us for a prosperous business future.

This form can't include all we are producing.
Optimum LiFePO4 Battery/Lithium Battery Pack
(12V 5Ah---400Ah)
5/10/20/25/30/40/50/60/80/100/120/150/200/300/400Ah
Item No.
OPT12005
OPT12010
OPT12020
OPT12025
OPT12030
OPT12040
OPT12050
OPT12060
Standard Capacity
5Ah
10Ah
20Ah
25Ah
30Ah
40Ah
50Ah
60Ah
Rated Voltage
12.8V
Discharge Cut-off Voltage
10.0V
Cell Model
IFR32650/32750
Casing Material
Steel Case for Single Cells
Self Discharge Rate
≤3% after one month
Life Cycles
80% left after 2000 times (with 1C constant charge and discharge deep cycle)
Max Charger Voltage
DC14.6V
Standard Charge Current
0.2C
Protection Function
Short-circuit &Over-current &Overcharge &Over-discharge &Undervoltage Protection
Product Size(mm)
151*51*93
135*85*85
182*76*167
184*75*135
118*175*175
190*165*175
190*165*175
350*168*179
Approx N.W
0.9Kg
1.3Kg
2.8Kg
3.5Kg
4.0Kg
5.5Kg
7.0Kg
8.0Kg
Item No.
OPT12080
OPT12100
OPT12120
OPT12150
OPT12200
OPT12200
OPT12300
OPT12400
Standard Capacity
80Ah
100Ah
120Ah
150Ah
200Ah
200Ah
300Ah
400Ah
Product Size(mm)
(changeable)
260*170*215
330*170*220
339*173*212
502*262*242
502*262*242
360*220*262
502*262*242
560*360*200
Approx N.W
11Kg
16Kg
19Kg
24Kg
35Kg
38Kg
45Kg
65Kg
Corp:OptimumNano Battery Co., Ltd.
Http://optimum-china.en.alibaba.com/ www.optimumchina.com
Add: Bld9, Zhukeng Industrial Park, Pingshan New Dist.,518118 Shenzhen,Guangdong,China

1.Electric vehicles:EV/HEV/PHEV, Electric bus, Electric bike, Electric boat, Electric tricycle, Electric quadricycle, Electric scooter, Electric wheelchairs, Golf cart, Marine, Station/SUV /wagon/Caravan, E-tour car, Forklift, etc.
2.Solar and wind energy system:Solar energy storage, PV system, Solar street light, Wind power generation energy storage, etc.
3.Medical devices:Energy power for various kinds of medical devices, etc.
4.Other electric tools and equipments: Lawn mower, Electric saw, UPS, backup storage system, Military equipments, etc.

1.Safe:Rigid aluminum alloy housing protection, BMS or PCB built inside to protect the battery over charge or discharge.
2.Environmental-friendly: Accredited with RoHS, without any hazardous and noxious substances.
3.Lighter and smaller: 1/3 weight of lead acid battery, 70% size/weight of Ni-MH/Ni-Cd battery.
4.Powerful: Able to discharge at 20Cat 65°C max.
5.Long cycle life: Over 2000 cycles with capacity staying at minium 80%. Lead battery and other Li-ion batteries only have 300-500 cylces, such as Ni-Cd battery, Ni-MH battery.
6.Wide temperature range: Available for use when the temperature ranges from -20°C to 70°C.
7.Quality assurance: BV and SGS approved supplier, with TS16949 and ISO9001 quality management certificates and UL, CE,IEC62133, RoHS certificates.

1.Specialized in production of lithium iron phosphate batteries for over 4 years.
2.Providing tailor-made high-standard energy solutions in accordance to client's demands.
3.With technical of over 2 years in on-site installation and debugging for more than 1000 HEV and EV.
4.Having made and implemented energy solutions for over 100 styles of EV.
5.With rich experience in drawing up and executing new energy solutions such as special energy-storage systems like wind-solar hybrid power generation and UPS for military and hospital.
6.Whole-journey nanny service after sale.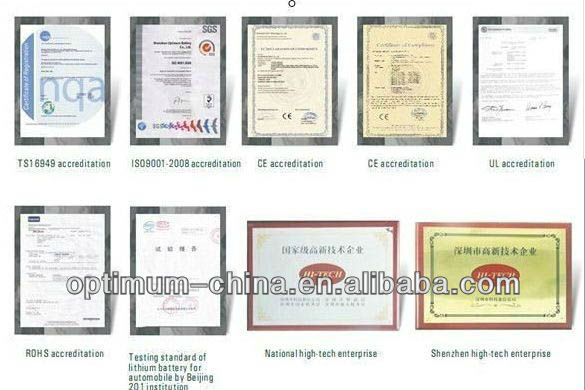 Introducing advanced equipment, OptimumNano has been well-known as one of the professional manufacturers and suppliers of 12v 30ah 12v30ah lithium li ion battery pack for energy lifepo4. Our batteries are of high safety, high capacity, strong stability and long cycle life. With bulk batteries in stock, we warmly welcome you to buy or wholesale good price battery made in China from us.