12V 5AH Rechargeable lithium battery Sealed Lead Acid Battery Replacement
Solar Lighting lithium iron 12V5Ah Solar LED Sign
Say Goodbye to Old Lead Acid Battery,
Say Hello to LiFePO4 Battery!
The best solution to replace lead acid battery, more powerful, lighter, smaller, but with longer lifetiem, about 5-6 years
Product Description
1.Norminal performance
Nominal Voltage: 14.6V




Capacity-Amp Hours: 5Ah
Max Continuous Discharge:5A



Life in Cycles: more than 2000 times



Operating Temperatures - 4 F + 158 F

2,The feature of LiFePO4 battery
1, Safe: our lifepo4 battery is safer and more reliable than the lead acid battery.

2, Environment-friendly

3, Small in volume and light in weight: about 1/2 the volume and 1/3 weight of the lead-acid battery.

4, Steady performance: High power output: 1C, continuous: 3C pulse for normal cells and 20 C for special design.
5.Low self-discharge rate, less than 3% monthly.

6, Long cycle life: Over 2000 cycles with capacity staying at 80% min.

7, No memory effect: Always ready for charge and use
8, Wide temperature range: Available for use when the temperature ranges from -20° C to 70° C

9, Intelligent charge system: Voltage of each cell can be detected. Each cell can be protected against overcharge, overvoltage, short circuit and overheat, and so that battery can be charged balance.
3.Application
4.Certification:
Packaging & Shipping
As international standard or could be customized according to customers' request!
Inside Packing:
1. PVC enclousure
2. Epoxy board+ PVC wrapped
3. SLA case
4. Customized iron case or aluminum alloy case
Carton or wooden case
The LiFePO4 Battery has passed the UN38.3, according to the report ID: W10173003116D~1.
Separate Lithium lron Phosphate Batteries when shipping to prevent short circuits.
Transport Fashion: Be applicable to transport by air, by shipped, by Passenger and Cargo Aircraft.
Our Services
. Full solution-Battery Pack+BMS+Charger
. Samples are available with charged
. Every battery pack can be customized according to your specific demand
Company Information
Welcome to OptimumNano Energy Co., Ltd
12 years of battery manufacturer
the leading manufacturer of cylindrical Lithium lron Phosphate(LiFePO4) Battery;

National High-tech Enterprise;

The main EV supplier for 2008 Shanghai EXPO and 26th Shenzhen Summer Universiade Games;

Approved by ISO9001,TS16949,CE,UL,ROHS,SGS,UN38.3,MSDS
With mature technology, standardized design, low long-run cost, environmental friendly, safety and reliability, long lifetime, high output efficiency, excellent low-high temperature performance, low self-discharge, and many patented technology, OPTIMUMNANO Lithium Iron Phosphate Battery Packs (LiFePO4 Battery) are widely used in various fields.
Production lines: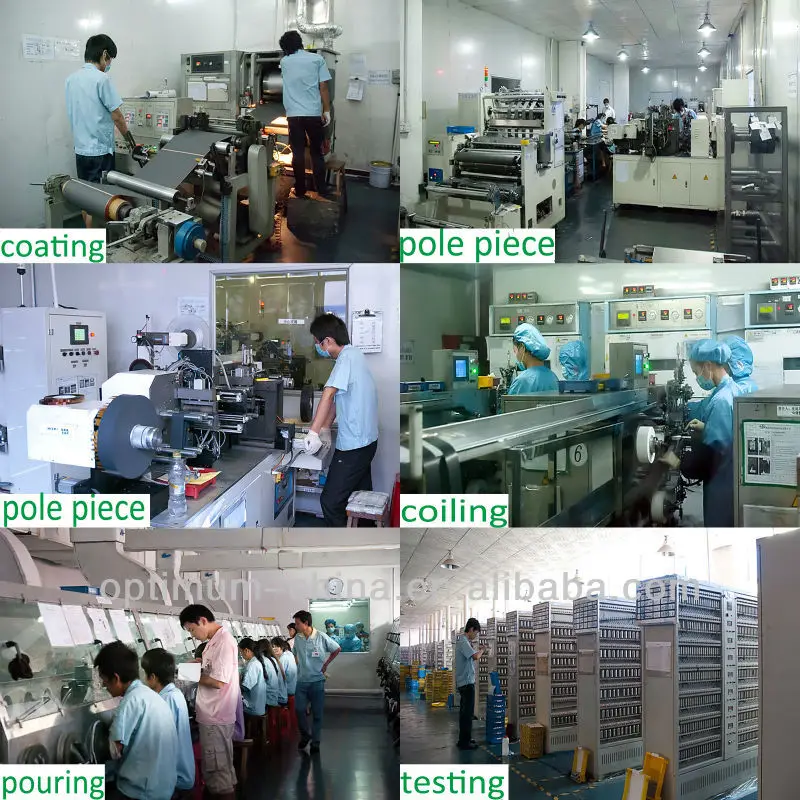 Introducing advanced equipment, OptimumNano has been well-known as one of the professional manufacturers and suppliers of 12v 5ah rechargeable lithium battery sealed lead acid battery replacement. Our batteries are of high safety, high capacity, strong stability and long cycle life. With bulk batteries in stock, we warmly welcome you to buy or wholesale good price battery made in China from us.